Wednesday 27 October 2010
One Direction's Harry Styles knocked over by screaming X Factor fans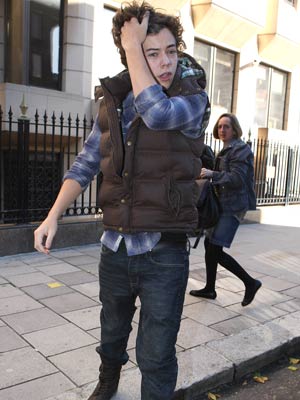 One Direction singer Harry Styles was not injured
One Direction star Harry Styles was shoved to the floor by overzealous X Factor fans yesterday.
Simon Cowell's group - including Zain Malik, Liam Payne, Louis Tomlinson and Niall Horan - faced a mob of screaming girls as they arrived at the show's studio in London.
Harry, 16, fell on the pavement as he struggled to get out of a car.
'It was mad, when he got out of the car he was smiling, but then panicked,' fan Miranda Fisher, 16, tells The Sun.
'They all looked like they didn't like it.'
Fortunately, Harry wasn't injured - he was helped up and managed to make his way into the building with his bandmates.
Aiden Grimshaw, 18, also faced a battle to enter the studio.
At one point, he had his back against a wall as he was surrounded by sobbing fans.
COMPETITION Win! A special X Factor party with Danyl Johnson>>
SEE PICTURES The X Factor 2010 - evictees appear on Daybreak>>
SEE PICTURES The X Factor 2010 - finalists prepare for next show>>
SEE PICTURES The X Factor 2010 - the finalists' stylish makeovers>>
SEE PICTURES The X Factor 2010 - the live shows>>
SEE PICTURES The X Factor 2010 - finalists prepare for live shows>>
SEE PICTURES The X Factor 2010 - final 12 get makeovers>>
SEE PICTURES The X Factor 2010 - final 12>>
SEE PICTURES The X Factor 2010 - auditions>>
SEE PICTURES The X Factor 2009 - best moments>>