Wednesday 29 September 2010
VIDEO Australia's Next Top Model host announces wrong winner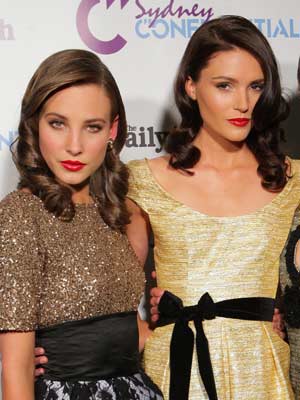 Kelsey Martinovich and Amanda Ware went through mixed emotions
The
Australia's Next Top Model
season 6 final descended into chaos this week when the wrong winner was named on live TV.
Presenter
Sarah Murdoch
announced that
Kelsey Martinovich
had scooped the title when
Amanda Ware
, 18, had actually received the most public votes.
After over a minute of thinking she was a winner,
Kelsey
was interrupted during her acceptance speech by the apologetic host.
'I'm so sorry, this was a complete accident,' said
Sarah
, 38.
'The lead kept changing. It was literally down to a couple of votes. It kept going back and forwards... and we ended up with
Amanda
as a winner.'
Kelsey
, 19, appeared to take the news well.
'It's OK, it's an honest mistake,' she said.
Australia's Next Top Model
bosses have given
Kelsey
$25,000 (£15,162) and a free trip to New York to make up for the gaffe.
SEE VIDEO
Australia's Next Top Model
host announces wrong winner...