Monday 27 September 2010
Dannii Minogue: I don't want to get into a slanging match with Kelly Osbourne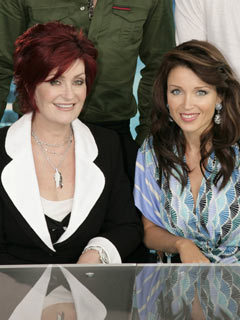 The X Factor judges Sharon Osbourne and Dannii Minogue didn't get on
Dannii Minogue has shrugged off Kelly Osbourne's claims that she's a 'devil'.
The rock chick, 25, made the comment last week after extracts from The X Factor judge's new book My Story were released and portrayed her mum Sharon Osbourne in a negative light.
'I will be the first one to admit that my mother did not play her cards right when (it) came to Dannii but trust me when I say Dannii is the devil,' Kelly Tweeted.
In her autobiography, Dannii recalls how 57-year-old Sharon burst into her dressing room on her 36th birthday - the night of her first X Factor live show in 2007 - and berated her.
Despite Kelly's accusation, the Aussie singer, now 38, is standing by her account.
'I just put what happened in the book I don't want to get into the back and forth with this,' she tells X Magazine. 'I know what's true.

'They're strong accusations. I'm not a liar - if [Kelly] is calling me a
liar, she's calling everyone who was there a liar. The producers and
everyone. There were a lot of witnesses
'I don't want to get into some kind of slanging match with anyone.
You can't change anyone's opinion of you. If someone doesn't like me,
I've always just stayed out of their way.'
SEE PICTURES Dannii Minogue shows off baby bump>>
SEE PICTURES Kris Smith and Dannii Minogue - a love story in pictures>>
HAIR GALLERY Dannii Minogue - a bob with a difference>>
FASHION GALLERY Dannii Minogue - a style icon>>
SEE PICTURES Cheryl Cole vs Dannii Minogue>>
SEE PICTURES Dannii Minogue and Kris Smith return to London>>