Wednesday 18 August 2010
True Blood stars pose naked for Rolling Stone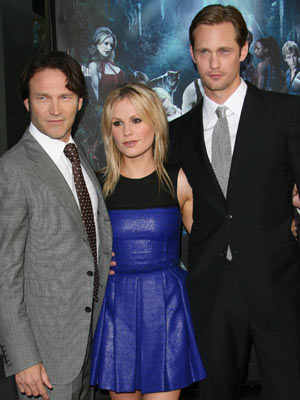 Stephen Moyer, Anna Paquin and Alexander Skarsgard talk about vampire sex in Rolling Stone magazine
Anna Paquin
,
Alexander Skarsgard
, and
Stephen Moyer
have stripped naked for the cover of this month's
Rolling Stone
magazine.
The True Blood stars are shown in the buff, dripping with fake blood.
The trio are promoting the third series of the popular TV show and are happy to talk about the symbolism - and appeal - of vampire sex.
'If we go from a base level, vampires create a hole in the neck where there wasn't one before. It's a de-virginization - breaking the hymen, creating blood and then drinking the virginal blood,' Stephen explains.
'And there's something sharp, the fang, which is probing and penetrating and moving into it. So that's pretty sexy. I think that makes vampires attractive.'
Stephen, 40, who stars as vampire Bill Compton and Anna Paquin, 28, who plays Sookie Stackhouse, have been an item off screen since February 2009.
Stripping off for erotic scenes is no problem for them.
'To me, vampires are sex,' True Blood creator Alan Ball says, 'I don't get a vampire story about abstinence.'
The Twilight films featuring Robert Pattinson and Kirsten Sewart are, of course, all about Bella Swan and Edward Cullen not 'doing it' but that will change in the next movie...
SEE PICTURES True Blood series 3 premiere >>
Reena Sewraz