Monday 12 July 2010
Bird poos on Barbara Windsor's head as she films EastEnders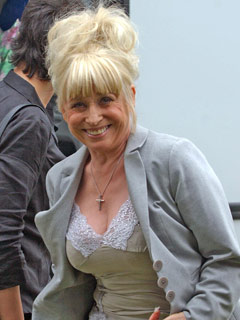 Barbara Windsor has played Peggy Mitchell since 1994
Barbara Windsor screamed in horror when a bird pooed on her while shooting scenes for EastEnders last week.
The naughty pigeon launched its droppings over the actress's hair.
'It burns!' yelped Babs, who plays Peggy Mitchell. 'Quickly, get it off.'
A costume girl came to Barbara's aid as the poo started to drip down her neck and onto her red blazer.
Co-star Zoe Lucker, 36, who plays Vanessa Gold, couldn't stop laughing at her misfortune.
Last year, Barbara, who has played fiery landlady Peggy since 1994, announced she's quitting the BBC soap.
It's rumoured that her character will be killed off when The Queen Vic burns down in a fire later this year.

SEE PICTURES Barbara Windsor with bird poo on her>>