Sunday 28 February 2010
Rihanna teaches Alan Carr how to dance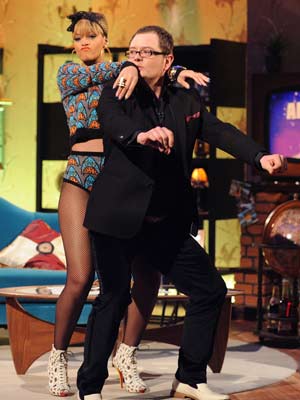 Rihanna high-fived Alan Carr after his dance tuition
Rihanna gave Alan Carr a lesson in how to dance while on his TV show.
The singer, 22, taught the comedian the bogle, the butterfly and the dutty wine.
Rihanna wore bizarre oversized pants and a matching top, plus a hairnet, on the programme.
She was appearing on Alan Carr: Chatty Man to promote new single Rude Boy.
The star also admitted her friends have interesting nicknames for her.
'They call me 'ho, slut, bitch...' she joked.
SEE PICTURES Celebrity sex secrets>>
SEE PICTURES Rihanna and Chris Brown - their love story>>
SEE VIDEO Rihanna gets lap dance from little porn star...