Wednesday 30 September 2009
Brian Fortuna: I keep asking Ali Bastian out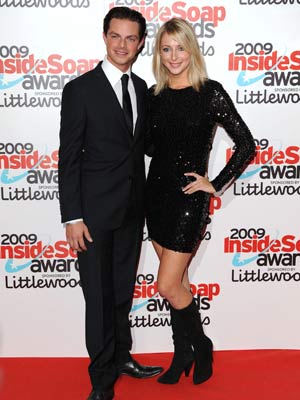 Ali Bastian and Brian Fortuna looked close at the Inside Soap Awards this week
Ali Bastian is being wooed by her Strictly Come Dancing partner Brian Fortuna.

The hunk, 27, is keen to take The Bill star out on a date.

'The truth is I've been asking Ali out for two or three weeks,' says Brian.

'She turns me down every time but maybe one day she'll accept it. Who knows?'

Ali, 26, is said to have recently split from a mystery boyfriend, who she had apparently been seeing for five months.

'It's early days [with Brian],' she tells The Sun. 'We only met each other a few weeks ago.
'We get on really, really well. I feel lucky to have Brian as a partner. We have the best time.'

A BBC spokesman insists the pair are just pals: 'Ali's relationship with Brian is purely as dance partners and friends.'
EXCLUSIVE PHOTO GALLERY Ali Bastian and Brian Fortuna try Dirty Dancing>>
SEE PICTURES Ali Bastian and Brian Fortuna at the Inside Soap Awards 2009>>
SEE PICTURES Strictly Come Dancing 2009 contestants revealed>>
SEE PICTURES All the best moments from Strictly Come Dancing 2008>>
Get more news like this every week. Try 4 issues of the new-look Now for only £1>>