Monday 14 September 2009
America's Next Top Model is back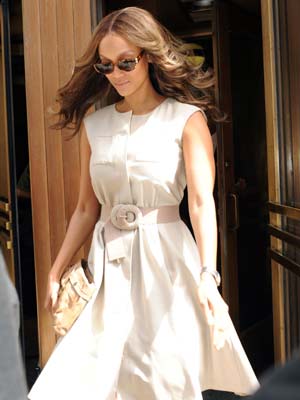 Supermodel Tyra Banks presents America's Next Top Model
The new series of America's Next Top Model kicks off on Living TV tonight.

Bosses have introduced a height restriction, which means contestants will be 5ft 7in or under.

Host Tyra Banks is delighted with the shake-up.

'I stand for redefining beauty and really opening up the narrow box of what beautiful is,' she says.

Tyra, 35, admits the change has been a long time coming.

'I tried to do seasons of just short girls and I got, "No, no, no" from my beautiful network people, who I love,' she tells Entertainment Tonight.

'So I created a Powerpoint presentation and said, "This is why this season will be successful." And I finally got a yes. It took two years to get a yes, two years. But it's happening.'

America's Next Top Model airs on Living TV tonight at 9pm.
SEE VIDEO Riot breaks out at America's Next Top Model audition>>
SEE PICTURES America's Next Top Model series 11>>
SEE
PICTURES Britain's Next Top Model series 5 - contestants revealed>>
Get more news like this every week. Try 4 issues of the new-look Now for only £1>>