Wednesday 12 August 2009
Big Brother: New task is announced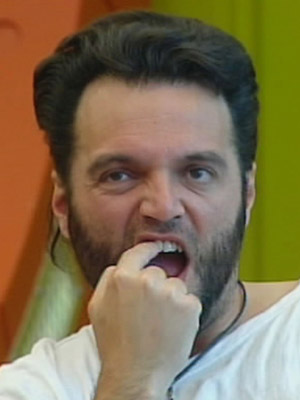 Marcus reckons his profile picture makes him look like a 'tool'
In tonight's Big Brother, a new task temporarily puts an end to housemates' squabbling.

After their argument, Halfwit and Bea wake up in good moods. Bea vows to change her attitude and says that the group will see 'positivity like they've never seen it before'.

Big Brother announces the latest task to be Best Of British-themed. Halfwit must master the art of playing the bagpipes.

'I haven't even got a proper sound out of one pipe yet,' he moans to a visibly pained Dogface and Siavash.

Rodrigo must become an expert in English etiquette, and Lisa, David and Bea must learn about betting on the horses.

Siavash and Marcus find out they must wade through smelly water in honour of the annual Bog Snorkelling Competition in Wales.
'It stinks like a fish shop,' Dogface exclaims unsympathetically.
The housemates will compete for cold hard cash to go towards this week's food shop.
The peace is soon disrupted after Marcus throws a hissy fit, Bea and Lisa form an alliance and the nominations are officially announced.

See all the action in Big Brother on C4 tonight at 9pm.
Danielle Mellor