Thursday 06 August 2009
Big Brother's Lisa: I'll never talk to Halfwit again!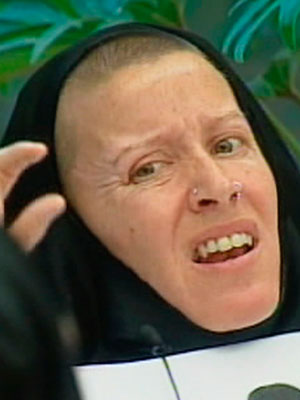 Lisa reckons she's a sensitive soul
In tonight's Big Brother, Lisa says she's had just about enough of 'spiteful' Halfwit but she's determined to stay in the house - especially as he obviously wants her to go.
'Halfwit hurt me and I was so upset,' she tells Charlie. 'I am a soft person really.'

Big Brother has set up a Mad Hatter tea party, consisting of cakes, tobacco and alcohol served in teapots for the housemates.
Amazingly, despite having to eat chocolate cake for five hours in her task, Hira heads straight for baked goods again saying, 'I cannot resist'.
Dogface is drunk and goes to see Rodrigo, telling him she loves him and that she wants to live with him.
But Rodrigo is more interested in Charlie - who he beckons over to whisper, 'Let's go to bed'. Charlie whispers back, 'I will in a bit' and the pair share a kiss before Charlie leaves the room.
See all the action in Big Brother on C4 tonight at 10pm.