Monday 08 December 2008
Austin Drage is a Sexy Santa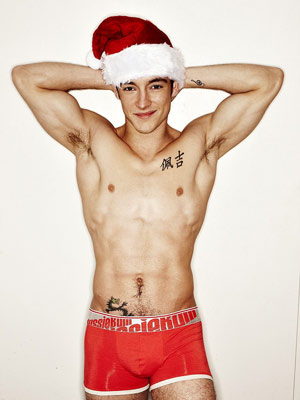 Austin strips off for Christmas
Austin Drage is still reeling from his shock exit from this year's X Factor.
But as he waits for his time in front of Now's lens, he's more concerned about being shown up by fellow Santas Basshunter and Stuart Pilkington.
'I'm a bit nervous. There's some big, muscly guys coming in and I'm so tiny,' he says with a laugh.

At 5ft 4in, Austin may be short in stature, but the hunky singer certainly makes up for it in the buff body stakes. What's his fitness plan like?
'Plenty of sex! It's good exercise,' he reveals. His favourite Christmas memory is a little less saucy: 'Waking up and going downstairs with my nan to open presents together.'

The star, 22, will be spending this Christmas as a singleton, but when he does have a lady in tow, he certainly knows how to treat her right.
'I'm old-fashioned. I think a date should have flowers and a nice meal. I treat a lady like a lady and I'm always truthful with them,' he insists.

Despite his X Factor dream being dashed, Austin's not giving up on his music.
'Onwards and upwards. I'm still working on it. I've had a few people approach me about record deals, but I'm playing my cards close to my chest at this stage,' he says.
So who does he think will win the show? 'Alex. She's the most talented.'