Monday 22 December 2008
Tom Chambers: I cheated death in a hijacked plane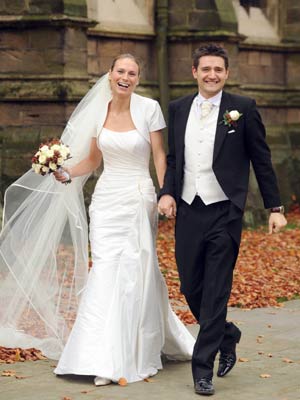 Tom Chambers married Clare Harding this year
Strictly winner Tom Chambers, 31, only has eyes for one woman: his wife Clare Harding, 26.
After an on-off 11-year relationship, the childhood sweethearts tied the knot in Derbyshire on 19 October.
Tom decided to commit to Clare after a near-death experience in 2000.
'I was flying to Kenya and a hijacker attacked the cockpit,' Tom explains. 'The pilot only regained control of the plane at 19,000ft.
'I just couldn't believe it was happening – I thought: "This is just not meant to be, I'm destined to marry Clare one day." I just couldn't believe it was going to be the last time I ever saw her. '
Tom loves every minute of being married to Clare, who joined him on the Strictly Come Dancing door floor after his win with Camilla Dallerup last night.
'It's amazing. You become part of a team and you feel invincible as long as you're together,' he says. 'When we've had a few hiccups we just think: "It's alright. We're together. We'll get over it."
'Seeing Clare walk down the aisle. It's a cliché, but it really is that one moment I'll never forget. She could have been wearing a bin liner for all I cared because all I could see was her face.'