Thursday 09 October 2008
SEE PICS Davina McCall maimed in new TV show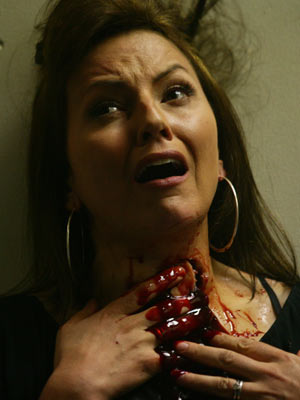 Davina McCall's first acting role was in 2001's Sam's Game, which was slated by critcs and viewers alike
Davina McCall is pictured grabbing her bloody throat for her cameo in Dead Set.

The presenter, 40, is attacked by a group of zombie's for Charlie Brooker's new show – a horror spin-off based on Big Brother.

Davina plays herself in the 5-part thriller, which stars Jaime Winstone, 23, as a TV production runner stuck in the house while the world is overtaken by zombies.

Dead Set will be aired on E4 later this month.
SEE VIDEO Dead Set teaser trailer…



Holly Arnold