Wednesday 03 September 2008
SPOILER ALERT Ugly Betty secrets revealed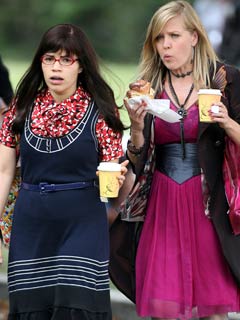 Ugly Betty is back on 5 September
The US writers' strike meant the second series of Ugly Betty cut off midway through, but from 5 September America Ferrera and co return to our screens. But if you can't wait to watch it, we can give you all the gossip now…

BETTY'S SHOCK MARRIAGE PROPOSAL
The two men in Betty's life are still competing for her affections. Despite the fact that Henry (Christopher Gorham) and Betty have rekindled their romance, Betty struggles to fight her attraction to newcomer Gio (Freddy Rodriguez).

WILHELMINA'S DEVIOUS NEW PLAN
With plans for her future in tatters after the death of Bradford on their wedding day, Wilhelmina (Vanessa Williams) makes her next underhand move to become a member of the Meade clan. This time she makes Christina (Ashley Jensen) an offer that she simply cannot refuse.

COURT IS IN SESSION
Meade matriarch Claire goes on the stand for the murder of Fey Sommers. While a vindictive Amanda withholds important information, crucial evidence is found, but will Betty work it out in time?

AN OLD ENEMY RETURNS
Hilda's (Ana Ortiz) ex-neighbour and lifelong nemesis Gina Gambarro (Ava Gaudet) returns to Queens to rub her fabulous life and wealthy doctor husband in Hilda's face.
Who's the daddy?
Amanda (Becki Newton) and Marc (Michael Urie) hatch a plan to reach out a plan to the man they believe is Amanda's biological dad- you won't believe who it is! Once they know who he is for sure, Amanda agrees to star in a reality show with him (yes, really).
There are new faces
Gym'll fix it
Former The Young and The Restless hunk Eddie Cibrian is set to steam up the screen as Hilda's love interest Coach Tony Diaz. But Hilda soon learns some shocking news about her new man.

Evil Wilhelmina's mystery sister
The gorgeous Gabrille Union joins the cast as Wilhemina's sexy younger sister Renee, who gets involved with Daniel. But is her past as mysterious as Wilhemina would have Daniel believe?

Magazine wars
Guest starring as herself, the supermodel Naomi Campbell faces off against Wilhemina in the charity softball game of the year: Mode vs Elle.

It's only rock n roll
Kiss front man Gene Simmons guest-stars as himself in a couple of episodes this series - but we can't tell you why just yet…

Burger off
Lindsay Lohan plays Kimberly, fast food waitress and Betty's high school nemesis. Sadly for Betty, Kimberly's sticking around into the third series.