Monday 16 June 2008
Big Brother housemates fail crisp-licking task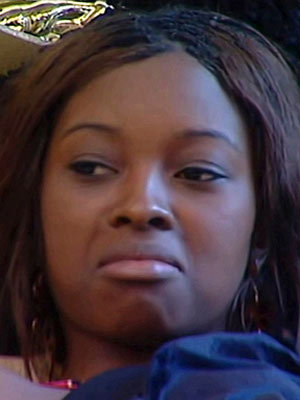 Sylvia Barrie raged at Big Brother after failing the task
Big Brother housemates didn't win any tokens after taking part in their latest challenge – to sort out 4 different flavours of crisps by just by licking them.

The rules stated the housemates were forbidden from eating any of the crisps or they would face 'severe consequences'.

And they had to wear overalls, protective gloves and hairnets, which Sylvia Barrie, 21, described as 'dinner lady' outfits.

But after working their way through 6,250 grams of salt and vinegar, cheese and onion, Worcester sauce and ready salted crisps, the team were told they had been unsuccessful.

Cheese and onion exceeded the error margin by 8% and 11% of Worcester sauce chips were inaccurately tasted.

'How dare they?' Sylvia raged afterwards. 'Straining my tastebuds, confusing my tongue. How dare they?'

Last night contestants were given a musical instrument to play. They were told they would have to perform as an orchestra to When The Saints Go Marching In.
On Friday Stephanie McMichael, 19, was the first housemate to be evicted.
Alison Adey