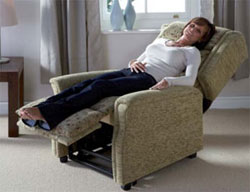 The Recliner Factory
The Recliner Factory is the home of British made, high quality riser recliners, operating from our purpose built factory situated in the heart of the West Midlands. Our location has allowed us to draw on the skills and knowledge provided by the workforce in this area with its traditional links to the furniture industry, meaning our furniture is built with care and attention by British craftsmen.

We manufacture our own chairs and we don't have shops or dealers so we keep our costs down, meaning you can enjoy all the benefits of luxury, hand-crafted riser recliners at factory direct prices. We often have half price offers – see our website www.reclinerfactory.com for details.