Larry Stylinson
Facts all about:
Larry Stylinson - a fake romance between Harry Styles and Louis Tomlinson invented by a group of One Direction fans - has spawned fan fiction, blogs and artwork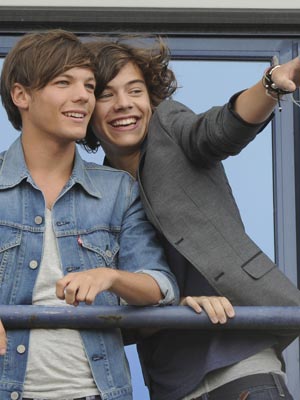 Larry Stylinson
is a fake romance imagined by a very vocal group of One Direction fans.
Known as Larry Shippers, the Directioners are convinced that 1D's Harry Styles and Louis Tomlinson are in a relationship.
Louis and Harry became close friends when they were competing for fame on The X Factor in 2010. They decided to move in together when the show ended and admirers loved seeing how close the boys were.
The lads often showed affection for each other on stage and in 2011, Harry revealed that Louis liked to play pranks with him during gigs.
'Louis Tomlinson makes me laugh,' he said. 'He randomly grabs my bum, stuff like that...'
They embraced their nickname
Larry Stylinson
in April 2012 when Louis joked that Harry was pregnant with his child. The X Factor's official page continued the April Fools' gag by using the hashtag #Larry.
Later in 2012, Louis was starting to tire of the rumours that he and Harry were an item.
He said it was hard to deal with because he had become loved-up with girlfriend Eleanor Calder. He admitted that it was affecting the way that he and Harry were acting in public.
Louis vented his frustration again in September with a rant on Twitter where he said: '
Larry is the biggest load of bullsh*t I've ever heard
.'

Larry Stylinson
Shippers have grown more intense over the years.
They have written fan fiction, set up blogs documenting every move the pair make together and drawn erotic picture of the band mates.
Louis' other half Eleanor has been subjected to cruel messages on social media, which led her to call one believer 'deluded'.
Harry has also strongly denied the stories. The singer has been linked to a number of girls including Taylor Swift, Kendall Jenner, Caroline Flack and Emily Atack.
Read full bio
Larry Stylinson news
Now TV
Larry Stylinson videos