Kristen Stewart news
Facts all about:
Kristen Stewart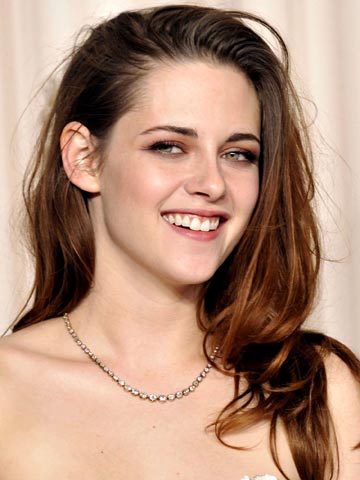 Birth name Kristen Jaymes Stewart
Birthday 9 April 1990
Star sign Aries
Birthplace Los Angeles, California
Kristen Stewart was born in LA to dad John Stewart and mum Jules Mann-Stewart in 1990. She has an older brother called Cameron as well as two adopted brothers, Dana and Taylor.
Her family have always been very involved in the entertainment business. John worked as a TV producer while Australian-born Jules was a script supervisor.
Kristen started acting when she was 8. Her first major role came when she starred alongside Jodie Foster in 2002 thriller Panic Room.
But it was Twilight that really gave Kristen Stewart her big break in 2008. The actress played Bella Swan, the teen who falls in love with vampire Edward Cullen, and the movie was a huge success.
She had amazing chemistry with co-star Robert Pattinson and the two started dating off screen.
Four more films were made in the saga, with the final instalment released in 2012.
During the Twilight era Kristen also starred in several other movies such as Adventureland and The Runaways.
Her personal life hit the headlines in July 2012 when she was caught in a clinch with married film director Rupert Sanders.
After pictures of the pair kissing and cuddling emerged, Kristen issued a public apology to boyfriend Robert Pattinson in which she spoke of her love for him.
Meanwhile Rupert, who had directed Kristen in Snow White And The Huntsman, later split from model wife Liberty Ross and their divorce was finalised in July 2014.
Kristen Stewart and Robert Pattinson put on a united front while promoting The Twilight Saga: Breaking Dawn - Part 2 a few months after the scandal in November 2012. They posed for pictures together and were seen holding hands at the London premiere.
It's thought that they called time on their relationship in May 2013, but rumours still circulated suggesting that they were back together.
Kristen continued to star in a diverse range of films.
She also branched out by dressing as a man alongside Anne Hathaway in the music video for Jenny Lewis's Just One Of The Guys in July 2014 and has appeared in fashion campaigns for Chanel and Balenciaga.