Johnny Depp news
Facts all about:
Johnny Depp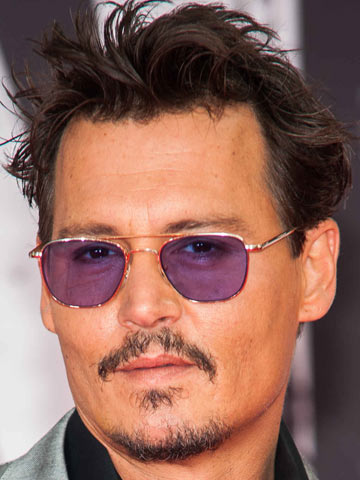 Birth name John Christopher Depp II
Birthday 9 June 1963
Star sign Gemini
Birthplace Owensboro, Kentucky
Marriages Lori Anne Allison, December 1983 - 1985
Johnny Depp was born in Kentucky to John and Betty Sue Depp in 1963. He is the youngest of four children.
The family moved frequently and regularly lived in motels when Johnny's civil engineer dad got a job in Florida.
Johnny was unhappy and started experimenting with smoking and drugs from the age of 12. His parents split when he was 15.
The youngster had always played guitar and joined a band. In 1983 he married make-up artist Lori Anne Allison and they moved to LA, where he was introduced to Nicolas Cage and was encouraged to act.
Johnny Depp got divorced in 1985. Two years later he landed his first major role in TV series 21 Jump Street and then found fame in 1990 flick Edward Scissorhands.
He had a romance with co-star Winona Ryder and then dated model Kate Moss.
Meanwhile his career went from strength to strength, with impressive turns in films such as Ed Wood, What's Eating Gilbert Grape and Sleepy Hollow.
In 1999 Johnny started dating French actress Vanessa Paradis. They had two children, Lily-Rose and Jack, and were together for nearly 14 years.
The 2000s brought more success for Johnny Depp.
He starred as charismatic Jack Sparrow in the hugely popular Pirates Of The Caribbean saga and earned an Oscar nomination for his performance in 2004.
He received two further nominations in 2005 and 2008 for Finding Neverland and Sweeney Todd: The Demon Barber Of Fleet Street respectively.
Other notable films included Charlie And The Chocolate Factory and Alice In Wonderland.
In 2011 Johnny starred alongside Amber Heard in The Rum Diary. They started dating in 2012 after his split from Vanessa and Johnny confirmed that they were engaged in 2014.