Jennifer Aniston news
Facts all about:
Jennifer Aniston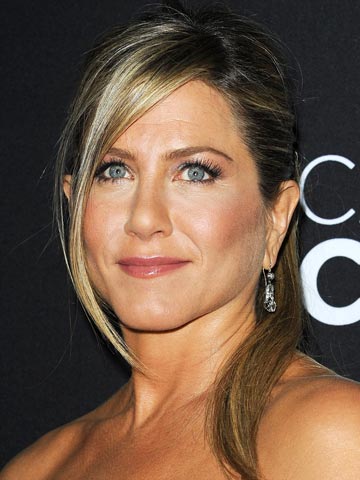 Birth name Jennifer Joanna Aniston

Birthday 11 February 1969

Star sign Aquarius

Birthplace Los Angeles, California

Marriages Brad Pitt, July 2000 - October 2005
Jennifer Aniston was born to actor parents Nancy Dow and John Aniston in 1969. She was raised in Sherman Oaks, Los Angeles.

As a child, she lived in Greece for a year with her family, before moving to Pennsylvania and New York City.

Jennifer has two half siblings, maternal older half-brother John Melick and younger paternal half-brother Alex Aniston. Her parents split when she was nine years old.

When she was six, Jennifer began attending the Rudolf Steiner School and discovered acting.
She enrolled at Manhattan's Fiorello H LaGuardia High School Of Music & Art And Performing Arts, where she joined the drama society.

After graduating, she appeared in Off-Broadway productions and gained her first television role as a series regular on Molloy.

Following four failed comedy series, in 1993 Jennifer started to worry about her acting career.

She successfully auditioned for a new comedy series called Friends Like These, where she was granted the part of Rachel Green.

In 1994, the first episode of the shortened-title Friends aired. Jennifer played Rachel for the next ten years, shooting her name to A-list stardom.

Although Jennifer Aniston won an Emmy and a Golden Globe Award for her role as Rachel, she struggled to find the right film project to propel her beyond the character.

She filmed She's The One in 1996 and Picture Perfect in 1997, however neither left a lasting impression.

After spending two years living with actor Tate Donovan, they split in 1998 and her agent set her up on a blind date with Brad Pitt.

Two years later on 29 July 2000, the couple married in a $1 million ceremony in Malibu.

Their marriage was initially considered a Hollywood success, but on 7 January 2005 the couple announced their separation.

Intense media speculation followed the split, questioning that Brad had been unfaithful to Jennifer with his Mr & Mrs Smith co-star Angelina Jolie.
The pair have denied they were romantically involved on set.
Following her divorce in October of the same year, Jennifer's career went from strength to strength with a string of commercial hits.

2006's The Break Up was a huge box office success and even led to a brief romance with co-star Vince Vaughn, and 2008's Marley & Me also proved a smash.

Jennifer went on to star in He's Just Not That Into You, Just Go With It and We're The Millers among many other films.

She began dating actor Justin Theroux in May 2011 and they bought a home together in January 2012.

On 22 February 2012, Jennifer Aniston received a star on the Hollywood Walk Of Fame and in August of the same year, she announced her engagement.