Holly Hagan
Facts all about:
Holly Hagan has achieved a lot since joining the Geordie Shore cast in 2011 - she's released her own line of hair extensions, created a fashion line and appeared in many men's magazines wearing underwear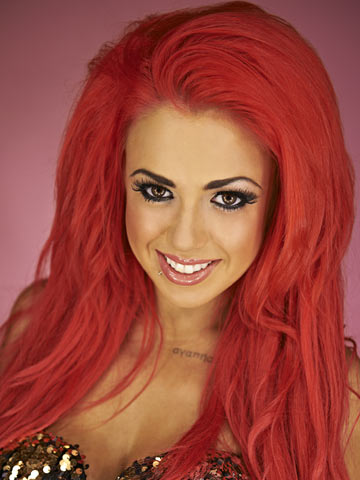 Birth name
Holly Victoria Hagan
Birthday
7 July 1992
Star sign
Cancer
Birthplace
Thornaby-on-Tees, North Yorkshire
Despite being known as a Geordie girl,
Holly Hagan
was born in Thornaby-on-Tees, North Yorkshire in 1992.
She lived with her mum Vicky Gibson and younger sister Darci.
Holly attended St Joseph's RC Primary School and Newlands School, although she's said she was 'never overly interested' in education.
Before finding fame, Holly worked for HM Revenue And Customs and as a loan adviser at a Santander call centre.
Holly had dreams of becoming a glamour model until she was cast in MTV's Geordie Shore. The reality show was first broadcast in 2011.
On the controversial programme, Holly and her party-loving co-stars are put in a house together while cameras document their raucous drunken antics.
Some of Holly's wildest moments have seen her stripping topless in a hot tub and getting it on with cast mate Scott Timlin in a toilet.
Geordie Shore has been hugely successful and Holly has filmed series in locations including Australia, Magaluf and Mexico.
Away from the show,
Holly Hagan
has posed for a number of men's magazines and teamed up with The Fashion Bible to release her Yours Faithfully fashion collection.
She launched her own hair extensions line in 2013.
In 2014, she released a remix of Kelis's 2003 hit Milkshake. The song was included on dance compilation Clubland 25.
Later that year,
Holly Hagan
released autobiography Not Quite A Geordie.
In her personal life, Holly was dating window estimator Dan Senior when she first entered the spotlight. They split after a three-year relationship in 2011.
In 2012, she was 'mortified' when The X Factor's Frankie Cocozza revealed he'd 'banged' her. Also that year, she began a short-lived fling with co-star James Tindale.
Holly had her first boob job when she was 18, paying £4,000 to go from a 36C to a 36D.
After they'd gone 'misshapen' two years later, she underwent a second enlargement and breast lift.
Read full bio
Holly Hagan news