Helen Flanagan news
Facts all about:
Helen Flanagan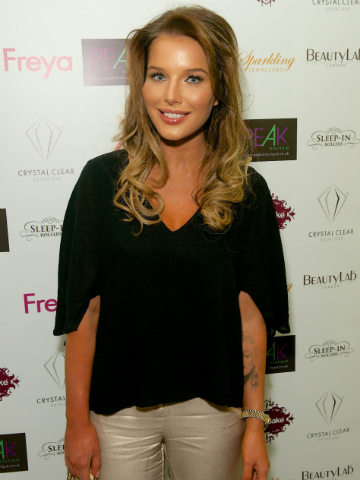 Birth name Helen Joyce Gabriel Flanagan
Birthday 7 August 1990
Star sign Leo
Birthplace Bury, Greater Manchester
Helen Flanagan was born to parents Paul and Julia Flanagan in 1990. She has a younger sister, Jessica, as well as older sister Jane and brother Tom.
At the tender age of 5, Helen started taking drama lessons at Carol Godby's Theatre Workshop. She also attended Westholme School in Blackburn.
Over the years she appeared in several TV adverts before landing the role of Rosie Webster in Coronation Street in 2000.
The young actress earned recognition for her portrayal and was twice nominated for gongs at the British Soap Awards.
As a teenager Helen Flanagan went through some difficult times. She's admitted that she suffered from an eating disorder and has also battled depression and panic attacks as well as having ADHD.
Helen left Coronation Street in 2012 to pursue other projects. Later that year she appeared as a contestant on I'm A Celebrity... Get Me Out Of Here!
She memorably struggled to overcome her fears in the jungle when faced with Bush Tucker Trials but still managed to finish 7th.
In 2013 Helen pursued her modelling career and did several hot photoshoots. She also appeared in a music video for New Zealand band The Neo-Kalashnikovs' single Gorgeous Baby.
The actress's love life hit the headlines in the summer when TV star Donatella Panayiotou claimed Helen's long-term boyfriend, footballer Scott Sinclair, had sent her flirty texts.
Scott insisted the texts were sent by a friend.
Helen moved out of the house she shared with Scott and the couple briefly split up.
More reality TV appearances followed, with stints on Channel 5 shows Celebrity Super Spa and Celebrity Wedding Planner.
In September 2013, Helen posed topless for a hot Page 3 photoshoot in The Sun.
After reuniting with Scott Sinclair, she moved to Birmingham to live with him at the start of 2014.
Shortly afterwards the fiery star experimented with a hot red hair colour before switching to a brunette shade.
Helen Flanagan made a return to acting in August 2014 when she appeared in an episode of Holby City as lazy agency nurse Kirsty Brompton.
The hot star has always been very active on Twitter and Instagram and regularly posted sexy selfies showing off her ample chest. But Helen shocked fans when she disappeared from social media in the summer of 2014, with her spokesperson revealing that cruel trolls were the reason for her absence.