Harper Seven Beckham
Facts all about:
Harper Seven Beckham - the daughter of Victoria and David Beckham - has become a young style icon and regularly attends fashion shows with her famous parents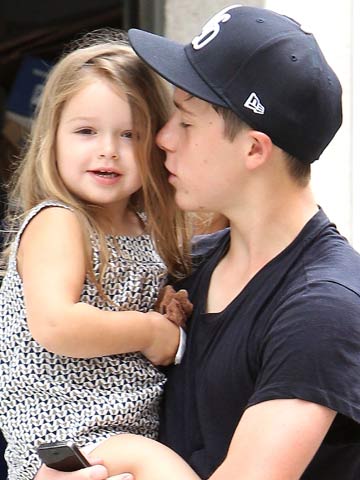 Birth name Harper Seven Beckham

Birthday 10 July 2011

Star sign Cancer

Birthplace Los Angeles, California
Harper Seven Beckham was born the fourth child of Spice Girl Victoria and footballer David Beckham.
She was delivered at the Cedars Sinai hospital in Los Angeles and has three older brothers named Brooklyn, Romeo and Cruz.

Her siblings were rumoured to have chosen the name Harper after their favourite character in TV programme Wizards Of Waverly Place.
But David dismissed this claim, saying: 'One reason is Harper's an old English name which we loved and one of the other reasons was Victoria's favourite book is To Kill A Mockingbird and the author was Harper Lee.'
Seven is the number of the football shirt that David wore for both Manchester United and England.

Harper's godmother is Desperate Housewives star and Victoria's close friend Eva Longoria.

Marking his daughter's birth, David had Harper's name tattooed on the left side of his chest. It sits above a tattoo of Jesus with three cherubs, which represents his three sons.

At only one year of age in July 2012, Harper Seven Beckham was crowned Most Stylish in a poll conducted by online baby store My1stYears.com.
She beat competition from the likes of Suri Cruise, Blue Ivy Carter and Mason Dash Disick.

Her other achievements include walking for her mum's spring/summer 2012 show at New York Fashion Week and hitting the catwalk at the Public Library ahead of the event.

The Beckham family returned to the UK from LA at the beginning of 2013. This was the first house move for toddler Harper.

On 28 May 2013, Harper was the centre of attention as she watched the Los Angeles Kings take on the San Jose Sharks during the NHL playoffs.

The Kiss Cam focused on her and David during a break from the game. When Harper realised what was happening, she adorably gave a huge smile before kissing her dad.

Harper Seven Beckham stole the show once again as she sat in a front-row position at her mother Victoria Beckham's spring/summer 2014 New York Fashion Week presentation on 8 September 2013.
She perched on her father's lap, chatting away to Vogue editor-in-chief Anna Wintour.
Read full bio
Harper Seven Beckham news