Frankie Sandford news
Facts all about:
Frankie Sandford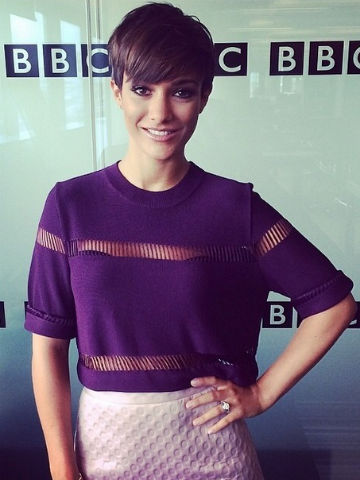 Name
Frankie Sandford (now Bridge)
Birth name
Francesca Sandford
Birthday
14 January 1989
Star sign
Capricorn
Birthplace
Upminster, London
Marriages
Wayne Bridge, July 2014 - present
Frankie Sandford
was born Francesca to parents Kevin and Viv in 1989. She has an older sister called Victoria, who's nicknamed Tor.
Frankie first found fame in 2001 after auditioning for CBBC show S Club Search.
Then just 12 years old, Frankie made it into band S Club Juniors with seven other youngsters. The group were originally created to support S Club 7 on tour but proved so popular that they released their own single One Step Closer in 2002.
The song reached No 2 on the UK Top 40.
S Club Juniors - later renamed S Club 8 - made albums Together and Sundown and starred in kids' drama series I Dream before splitting in early 2005.
After leaving the group, Frankie Sandford attended a stage school in Romford. She also worked in a bar and held a sales assistant position in House Of Fraser at Essex's Lakeside Shopping Centre.
In 2007, Frankie re-entered the limelight when she joined girl band The Saturdays alongside Mollie King, Rochelle Humes, Una Healy and Vanessa White.
Rochelle had also been in S Club 8.
The Saturdays' first album Chasing Lights peaked at No 9 on the UK Albums Chart and was followed by hit records including Headlines!, On Your Radar and Living For The Weekend.
The girls have scored a number of Top 10 singles and their tune What About Us - a collaboration with Sean Paul - bagged them their first No 1 in 2013.
Frankie dated McFly's Dougie Poynter for two years before they split in 2010. She later hooked up with footballer Wayne Bridge.
In April 2013, Wayne proposed to Frankie. The couple welcomed their son Parker in October 2013 and married in July 2014.
Frankie Sandford has spoken openly about her battle with depression and panic attacks.
In 2011, she hit the headlines after seeking help in a clinic and later revealed that she'd been fighting the illness since the age of 15.
2014 saw Frankie confirm that she was joining the 12th series of Strictly Come Dancing, where she was paired with professional dancer Kevin Clifton.
Now TV
Frankie Sandford videos