Cara Delevingne news
Facts all about:
Cara Delevingne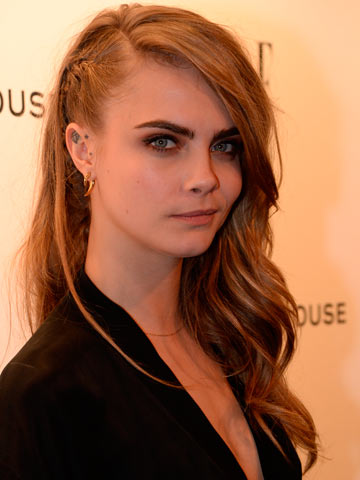 Birth name Cara Jocelyn Delevingne
Birthday 12 August 1992
Star sign Leo
Birthplace Hammersmith, London
Cara Delevingne was born to mum Pandora and property developer dad Charles in 1992. She has older sisters Chloe and Poppy.
The model's godfather is Condé Nast International president Nicholas Coleridge and her godmother is legendary actress Joan Collins.
She has an impressive family tree, with relatives including a newspaper proprietor, two Lord Mayors of London and a lady-in-waiting of Princess Margaret.
Cara was educated at the independent Bedales School in Steep, Hampshire, alongside Storm Model Management owner Sarah Doukas's daughter.

Sarah first scouted Cara's sister Poppy before signing her in 2009. Despite entering such a glamorous world, Cara has said that she's always been a tomboy.

Cara walked in shows in 2010 before appearing in Burberry's spring/summer 2011 campaign. She fronted their spring/summer 2012 range a year later.
Cara Delevingne soon became renowned for her trademark bushy eyebrows.

However, this wasn't Cara's first taste of the spotlight. She was shot by Bruce Weber for Vogue Italia at 10 and modelled for Cadbury as a child.

Since her debut, Cara has posed for brands including H&M, Zara and Blumarine and taken part in shows for designers such as Moschino, Fendi and Victoria's Secret.

She's been the cover star of numerous magazines - including Vogue and W - and has been made the face of companies like DKNY, Burberry Beauty and Chanel.

Away from modelling, Cara Delevingne has also ventured into acting and music.

She plays the drums and released an acoustic cover of dance track Sonnentanz with Will Heard in 2013. She's spoken about wanting to start a record label.

Cara bagged a small role in 2012 film Anna Karenina and has been cast in movies Paper Towns, Tulip Fever and The Face Of An Angel, among others.

In her personal life, Cara is famed for striking up close friendships with female stars including Rita Ora - who she called her 'wifey' - Rihanna, Nicki Minaj and Selena Gomez.

She's been romantically linked to celebrities such as One Direction's Harry Styles and actress Michelle Rodriguez.
Now TV
Cara Delevingne videos