Angelina Jolie news
Facts all about:
Angelina Jolie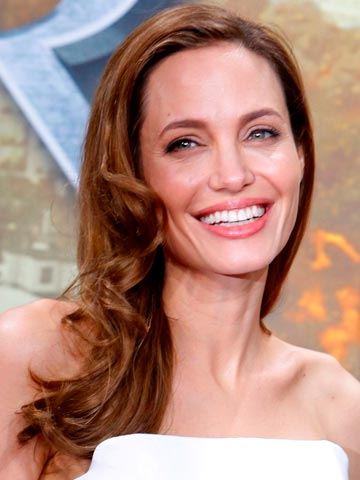 Name Angelina Jolie

Birth name Angelina Jolie Voight

Birthday 4 June 1975

Star sign Gemini

Birthplace Los Angeles, California

Marriages Jonny Lee Miller, March 1996 - February 1999. Billy Bob Thornton, May 2000 - May 2003. Brad Pitt, August 2014 - present

Angelina Jolie was born in Los Angeles, California to actor parents Marcheline Bertrand and Oscar-winning Jon Voight.

She has an older brother named James Haven, who is also an actor. After her parents' separation in 1976, Angelina and James lived with their mother.

Aged 11, Angelina began studying at the Lee Strasberg Theatre Institute, where she was seen in several stage productions.

She undertook film studies at New York University and later joined the renowned Met Theatre Group in Los Angeles.

In the mid-1990s, Angelina was praised for her roles in various small films, such as Hackers and Foxfire.

She married her Hackers co-star Jonny Lee Miller in 1996. She reportedly wore a shirt that she'd written her husband's name on in blood.
The couple divorced three years later.

Her major break came in 1999 when she won a leading part in The Bone Collector alongside Denzel Washington.

In that same year, Angelina starred in Girl, Interrupted, which led her to win her second Golden Globe Award, a SAG Award and an Academy Award for Best Actress In A Supporting Role.

In 2000, she married her Pushing Tin co-star Billy Bob Thornton. During the marriage, the spouses each wore a vial of the other's blood around their necks. They split in 2002.

Angelina Jolie became an international superstar when Lara Croft: Tomb Raider was released in 2001.

In March 2002, she adopted her first child Maddox from an orphanage in Cambodia.

She then starred opposite future husband Brad Pitt in the 2005 action-comedy Mr & Mrs Smith.

Angelina adopted daughter Zahara from Ethiopia in July 2005. Brad, who had recently split from wife Jennifer Aniston, accompanied her.

On 19 January 2006, Angelina had her children's last names officially changed to Jolie-Pitt.
Angelina and Brad welcomed their first biological child together, daughter Shiloh, in May 2006 and they adopted son Pax from Vietnam in March 2007.
Twins Vivienne and Knox were born on 12 July 2008.
The couple announced their engagement in April 2012 after seven years together and married on 23 August 2014 in a private ceremony in France.

After a three-and-a-half-year absence from the screen, Angelina Jolie starred in Maleficent in 2014. The movie became her highest-grossing film to date.