Celebrity feet - who's got weird toes?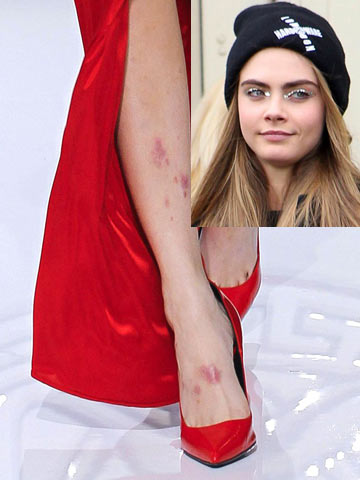 Celebrity feet: Cara Delevingne
With fame, fortune and head-turning good looks, it's impossible not to be jealous of celebrities.

But we've unearthed some pictures that prove stars are in fact just normal people like us – not members of a totally flawless species.

Take Victoria Beckham as example. At a glance, she's pretty much perfect. She's beautiful with amazing hair and has a wardrobe we'd do anything for. It's easy to see why she caught David's eye, right?

Next time you see a photo of Victoria strolling down the street in a pair of peep-toes, we ask you to take a closer look at her celebrity feet.

A love of sky-high stilettos has left Victoria with a bad case of bunions. Ouch!

And she's not the only A-lister with freaky celebrity feet.

Emmy Rossum's have a bizarre blue hue, while gym bunny Jennifer Aniston's are covered in protruding veins.

Katie Holmes' knobbly toes are hard to miss in strappy sandals and Lea Michele struggles to find shoes that fit her tiny trotters.

There's no way we could create a gallery of funny flippers without sharing a shot of the little stump next to Halle Berry's pinky.

It's not just singers and actresses that have strange tootsies, many supermodels have them too.

Heidi Klum's dry celebrity feet are in need of some moisturising lotion, while glamorous Iman Bowie has an uncomfortable corn that sticks out the side of her sling-backs.

Cara Delevingne isn't always runway ready. The pretty blonde suffers from a condition called psoriasis that leaves blemishes on her skin.

Author:
Updated: 2014-08-26 16:46:08