Kelly Brook shows off hot bikini body in sexy holiday snaps with boyfriend Danny Cipriani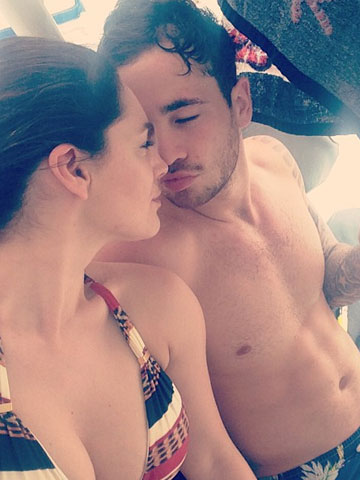 Kelly Brook and Danny Cipriani jet off to the Caribbean
Kelly Brook and Danny Cipriani seem to have formed a very close bond.

The pair have jetted off to Tobago and appear to be very happy as they fool around in the sunshine together.

It's likely the trip will be very special for rugby ace Danny as his dad is Trinidadian.

Kelly wastes no time in using the holiday to show off her incredible body by stripping down to a bikini.

While enjoying a boat trip, Kelly puckers her lips and leans close to Danny.

Hot Kelly Brook's ample cleavage is hard to miss in her plunging bikini top as the couple pose for a sweet selfie.

Danny also proudly parades his buff physique in printed swimming shorts.

The following day, the lovers see an opportunity to explore the island where they take in a number of breathtaking sights.

Joined by hunky Harlequins player Ugo Monye, Kelly and Danny check out a lush tree-lined beach and a pretty cove.

Exhausted after their adventure, the trio head down to the water to cool off.

'Castara Bay #Tobago,' Kelly captions a funny Instagram picture of the pals splashing around in the ocean.

Ugo's not the only mate the model and her man hang out with during their sunny break.

They meet up with a mixed group later on and pose for a sweet shot on a traditional wooden porch before heading for a night out.

Looking hot, Kelly Brook and Danny cuddle up in a bar.

As the week progresses it's clear Kelly is smitten with Tobago.

She enjoys a meal beneath a palm tree on the beach and is captivated by a stunning sunset.

Keep reading to see more hot Kelly Brook and Danny holiday pictures.


Author:
Updated: 2014-08-28 15:37:52