Monday 13 August 2012
Victoria Beckham Spices up her style in Giles Deacon at the Olympic Closing Ceremony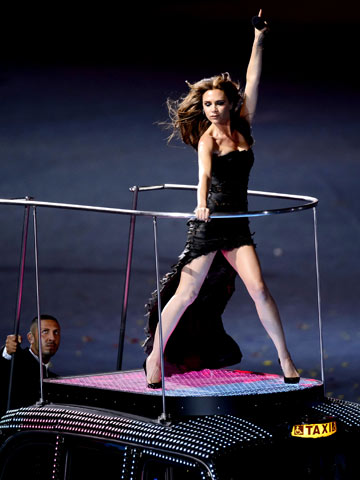 Victoria Beckham stuns in a Giles dress for her Olympics return with the Spice Girls
Victoria Beckham's husband David may have stolen the show in a speedboat at the London 2012 Opening Ceremony, but there's no doubt which family member had the final word as the Olympics drew to a close.
Victoria, reunited with the Spice Girls for a medley of their hits, balanced precariously on the top of a black taxi in a show-stopping mullet dress by British designer Giles Deacon - flashing her perfectly toned legs.
'I adore Victoria,' Giles tells Now's Style Editor Alison Tay. 'We've dressed her many times! I'm totally open to dressing anybody.
'I think it's interesting to see how all sorts of people wear pieces.
'I've not had anyone wear anything where I was disappointed. I've been very lucky.'
Create your own effortlessly cool style - check out the Ford Fiesta Style Showroom for great ideas
SEE PICTURES Victoria Beckham joins Spice Girls for Viva Forever musical launch>>
SEE PICTURES Victoria Beckham and baby Harper Seven dress up to hit the shops>>
SEE PICTURES Victoria and David Beckham: A love story in pictures>>
Alison Tay