Tuesday 10 July 2012
Harper Seven Beckham's style secrets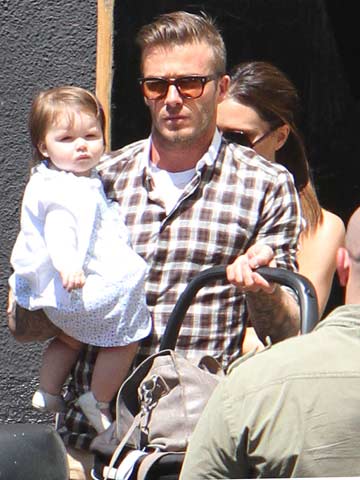 Baby Harper Seven with this season's hottest accessory: David Beckham
Having Victoria and David Beckham as parents means you've already got a head-start in the style stakes.
Harper Seven Beckham may only just have turned one, but she's already a fashion icon in the making.
Now Online reveals her top style tips...
You're never too young to accessorise
Harper may be too young for her very own £1,750 Victoria Beckham Victoria tote but she loves the matching headband.
You're only as stylish as your celebrity friends
When mummy Victoria and daddy David simply just aren't showbiz enough, Harper breaks out godmum Eva Longoria as A-list arm candy to raise her star style power.
Play around with prints
When Mummy's a high flying fashion designer, you can afford to take a few risks with your frocks. Now's the time to experiment with your look. Harper loves plaid and conversational prints.
Alison Tay