Friday 01 June 2012
Two hats worn by fashion Queen Kate Middleton expected to fetch thousands at auction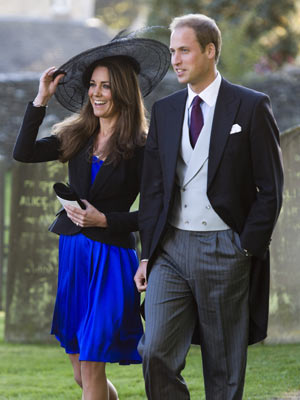 Kate Middleton dons her hired Aurora hat for the wedding of Prince William's friend in 2010
Bidders are expected to pay thousands when 2 hats worn by Kate Middleton go up for auction on 26 June.
The first is a black and white Philip Somerville number, which Kate chose for the Order Of The Garter in June 2008.
The second - a large black feathered headpiece by Aurora - was worn by Kate for the wedding of now-husband Prince William's close friend, Harry Meade, in October 2010.
Both are up for grabs through Kerry Taylor Auctions, who sold the see-through dress that Kate wore as a student for £78,000 last year.

Thrifty Kate, 30, hired the accessories from Get Ahead Hats in Reading for around £100 each.
'She was sometimes accompanied by her mother Carole who helped her make the right selection,' says a spokeswoman from the auctioneers.
Kate's hats had been put aside for safe-keeping by the store owner until they were ready to sell.
'Given her recent transformation into a style icon,' Kerry tells Marie Claire, 'we are confident there will be a great deal of interest in them.'
SEE PICTURES Kate Middleton wears Orla Kiely dress for Royal engagement in London with Prince Charles>>
SEE PICTURES Kate Middleton keeps dress hidden under chic grey coat at first Royal engagement without Prince William>>
SEE PICTURES Kate Middleton Style File>>
NEW PICTURES Kate Middleton and Prince William visit riot victims in Birmingham>>
NEW PICTURES Kate Middleton and Prince William dazzle in LA>>
NEW PICTURES Prince William and Kate Middleton on their visit to Prince Edward Island in Canada>>
NEW PICTURES Kate Middleton dazzles at ARK event>>
Esme Riley