Tuesday 29 May 2012
Steal Harry Styles' cross-dressing look with a blazer and breast pocket badge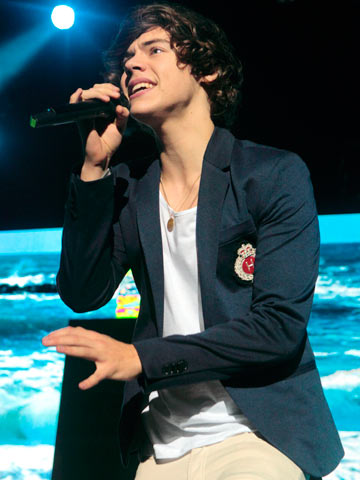 Harry Styles works a preppy blazer
We love Harry Styles' preppy look so much that we're going to wear it ourselves.
The One Direction boys, who've just appeared in concert at the Susquehanna Bank Center in New Jersey, are winning over American teens with their British charm and cute outfits.
Harry's preppy H' blazer was custom made for him by One Direction's super stylist Caroline Watson, but you can create the 1D hottie'slook at home.
Just take your favourite jacket, we recommend a boldly-coloured blazer, and sew on an embroidered badge to the breast pocket.
Check out Amazon.co.uk who have a vast selection to choose from.
Complete the Harry Styles look with your favourite skinnies, a white tee and a gold medallion keepsake necklace.
And there you have it - the perfect One Direction wardrobe just for you!
PHOTO GALLERY Harry Styles' life in pictures>>
SEE PICTURES One Direction sign copies of album Up All Night in New York to mark US release>>
SEE PICTURES One Direction continue US tour without Zayn Malik>>
NEW PICTURES One Direction and red carpet guests at the Brits 2012>>
SEE PICTURES Harry Styles and One Direction perform new song Gotta Be You on German TV show>>
SEE PICTURES Harry Styles and One Direction at Capital FM Jingle Bell Ball 2011>>
SEE EXCLUSIVE VIDEO Teen Now meets Harry Styles and One Direction>>
SEE VIDEO Harry Styles and One Direction mobbed by screaming fans in London>>
VIDEO: Harry Styles supports Cancer Research UK

VIDEO: One Direction coming soon
VIDEO: Teen Now meets One Direction part 1
VIDEO: Teen Now meets One Direction part 2
VIDEO: Capital FM Jingle Bell Ball part 2 with One Direction