Tuesday 22 May 2012
Miley Cyrus ditches dress for sexy white tux at US awards show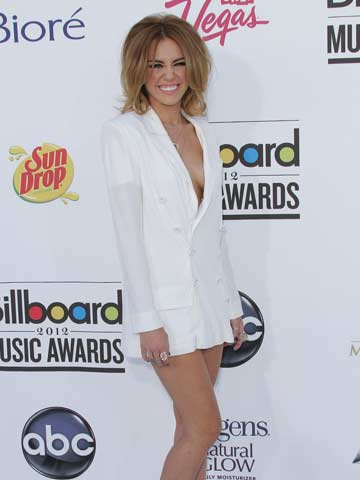 Miley Cyrus is dating Aussie hunk Liam Hemsworth
Miley Cyrus took a huge style risk at this weekend's Billboard Music Awards.
The 19-year-old star decided to bring her own unique twist to the Las Vegas event by choosing a tiny white tuxedo by French designer Jean Paul Gaultier over a classic fancy frock.
Liam Hemsworth's girl completed her daring outfit with a sexy and grown-up set hairstyle, subtle make-up and a pair of stunning striped sling-backs by Christian Louboutin.

Unsurprising, Miley's risqué ensemble received a mixed reception with some cheeky fans asking if she'd forgotten to wear trousers.
Our verdict? We love it.
We're just not sure we're brave enough to try it out for ourselves...
SEE PICTURES Miley Cyrus shoots sexy new video>>
CELEBRITY WEIGHT LOSS Celebrity diets>>
SEE PICTURES Miley Cyrus at Hannah Montana: The Movie premieres in London>>
SEE PICTURES Miley Cyrus at the Disney Channel Games>>
SEE PICTURES Miley Cyrus and the top 20 teen idols>>
Beth Shearing