Wednesday 16 May 2012
REVEALED The Mrs McFly 'wedding celebration' handbag designed for Tom Fletcher's bride Giovanna Falcone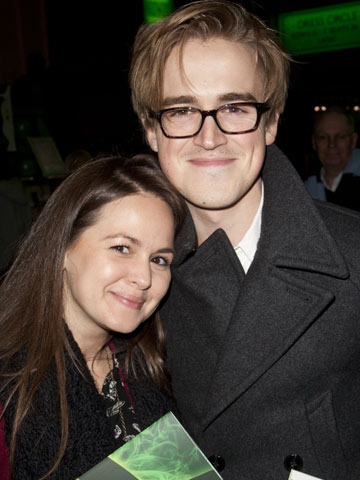 Giovanna Falcone and Tom Fletcher got engaged last April
Tom Fletcher's new wife Giovanna Falcone has had a handbag created especially for her.
Eccentric UK designer Helen Rochfort emblazoned the purple and silver purse with Mrs McFly in honour of Giovanna's celebrity wedding to singer Tom, 26, last weekend.
'Congrats to The FAB @MrsGiFletcher + @tommcfly x Take a peek @helenrochfort Mrs McFly handbag made for the lovely bride,' Tweets the designer.
Giovanna married childhood sweetheart Tom in front of friends and family at London's One Marylebone.
SEE PICTURE Giovanna Falcone's personalised bag>>
The pair, who met at the age of 13 at London's Sylvia Young Theatre School, have now escaped the UK.
'Me and the hubby @tommcfly are off on honeymoon. Sending lots of love to you all! Be good in our absence! Xxxx,' Giovanna, 27, Tweeted yesterday.
NEW PICTURES McFly star Tom Fletcher's new fiancee Giovanna Falcone shows off engagement ring>>
SEE PICTURES Celebrity weddings 2011>>
SEE PICTURES Engaged Celebrities>>
PICTURES One Direction have fun in the sun in Australia>>
SEE PICTURES One Direction show off hot new hair in sexy magazine shoot>>
SEE PICTURES One Direction sign copies of album Up All Night in New York to mark US release>>
SEE PICTURES One Direction perform new song Gotta Be You on German TV show>>
SEE VIDEO One Direction mobbed by screaming fans in London>>
PHOTO GALLERY Harry Styles' life in pictures>>
Esme Riley