Wednesday 09 May 2012
Get Kate Middleton's split-to-the-thigh sexy dress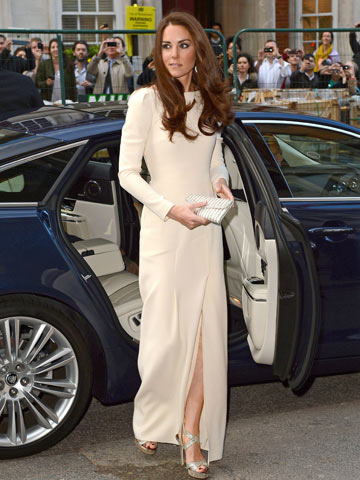 Kate Middleton stunned in Roland Mouret at Claridge's last night
Where is
Kate Middleton
's gorgeous full-length cream dress from, we hear you cry.
Well, we can reveal that Kate stepped out last night in a sexy sweeping gown designed by Roland Mouret and her dazzling 4in sandals are Vamp by Jimmy Choo, £450.
The figure-hugging frock is actually from Roland Mouret's RM by Roland Mouret 2009 collection, but you'll be pleased to learn that you can get the Duchess of Cambridge's look from Gorgeous Couture.
Buy a made-to-measure dress from only £174 in any colourway you fancy.
Now all we need is a Royal invite to Claridge's...
Jade Sprowson
MORE PICTURES Kate Middleton steps out with Prince William in stunning white number>>
SEE PICTURES Kate Middleton wears Orla Kiely dress for Royal engagement in London with Prince Charles>>
SEE PICTURES Kate Middleton keeps dress hidden under chic grey coat at first Royal engagement without Prince William>>
SEE PICTURES Kate Middleton Style File>>
NEW PICTURES Kate Middleton and Prince William visit riot victims in Birmingham>>
NEW PICTURES Kate Middleton and Prince William dazzle in LA>>
NEW PICTURES Prince William and Kate Middleton on their visit to Prince Edward Island in Canada>>
NEW PICTURES Kate Middleton dazzles at ARK event>>
Jade Sprowson