Thursday 29 March 2012
Size 6 Victoria Beckham: I design for myself in my knickers because I represent the public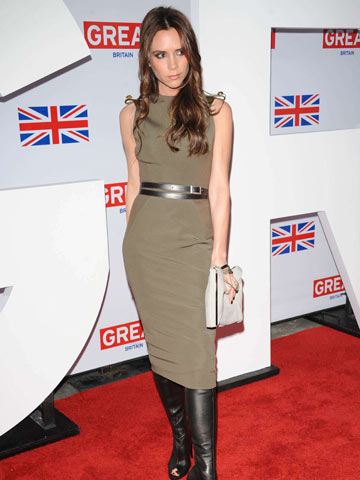 Victoria Beckham and Galaxy footballer David Beckham have decided to stay in LA
Victoria Beckham uses her body as a mannequin when fashion designing because she believes she's a fair representation of your everyday woman.
The 37-year-old happily strips off to ensure her pieces don't just look good on the teenagers walking the catwalks.
'We always joke that we have this fabulously gorgeous 17-year-old model who is 6ft-whatever and I say, "OK, I'm going to put it on - I stand for the general public here",' says Victoria.
But the mum-of-4, who's just 5ft 4in, is an extremely slender size 6 - while the average British female wears a size 16.
'It's how I work,' Victoria tells Harper's Bazaar.
'I found it really difficult when I was pregnant and I couldn't do that.
'It's part of the process. I'll stand here in my knickers and start draping fabric over myself.'
SEE PICTURES Victoria Beckham and baby Harper Seven dress up to hit the shops>>
SEE PICTURES Victoria Beckham and Eva Longoria take baby Harper Seven to watch dad David play football in LA>>
SEE PICTURES Style queen Victoria Beckham and baby Harper Seven visit Marc Jacobs in New York>>
SEE PICTURES Victoria Beckham and Harper Seven show mum and baby style in New York>>
SEE PICTURES Pregnant Victoria Beckham and husband David leave New York hotel>>
SEE PICTURES Victoria and David Beckham launch new fragrance Signature in New York>>
SEE PICTURES David Beckham's changing hairstyles>>
SEE PICTURES Victoria and David Beckham: A love story in pictures>>
SEE PICTURES Victoria and David Beckham go out for dinner with the Ramsays>>
Esme Riley