Wednesday 23 November 2011
Kate Middleton disappoints children as she dresses in jumper and jeans to visit school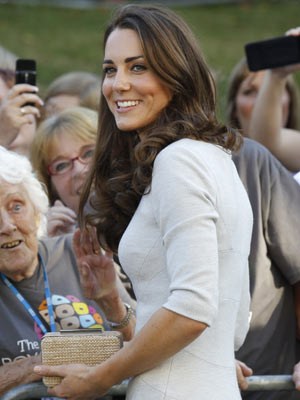 Kate Middleton is normally seen as a style icon
Kate Middleton is seen by the world as a fashion icon, but a group of children weren't impressed by the Duchess's style when she visited their inner London school.
Kate, 29, dressed down in a jumper and jeans for a charity trip to the Robert Blair Primary in Islington.
'Some of the little ones were very confused. They were saying things like: "She doesn't look like a Princess. Where's her dress?",' a parent tells the Mail On Sunday.
'They didn't believe it was the Princess they had seen on the television.'
But there was a reason why Kate wasn't in a posh frock - she didn't know she'd be seen by the public.
The Royal had dressed appropriately for a private meeting with art therapy charity The Art Room, unaware that they were based at the school.
NEW PICTURES Kate Middleton and Prince William visit riot victims in Birmingham>>
NEW PICTURES Kate Middleton and Prince William dazzle in LA>>
NEW PICTURES See Prince William and Kate Middleton on their visit to Prince Edward Island in Canada>>
NEW PICTURES Kate Middleton dazzles in ARK event>>
NEW PICTURES Prince William and Kate Middleton attend Epsom Derby 2011>>
NEW PICTURES Royal Wedding crowd celebrate Kate Middleton and Prince William's big day>>

ROYAL WEDDING GALLERY See the guests arrive for Prince William and Kate Middleton's special day>>




NEW PICTURES Kate Middleton wears elegant lace Sarah Burton dress for her wedding to Prince William>>




NEW PICTURES Kate Middleton and Prince William are married at last>>