Wednesday 16 November 2011
Christina Ricci has Pan Am mile high style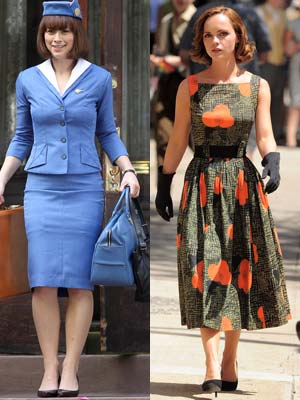 Christina Ricci and Karine Vanasse star in Pan Am
Prepare for takeoff as the Pan Am girls bring 60s glamour to our TV screens.
Set in New York in 1963, Pan Am follows the lives and loves of the über-glam stewardesses.
We'll all be stealing the style of Maggie, played by Christina Ricci and Laura (Karine Vanasse).
Here's your in-flight guide:
First-class chic
Peel off those gloves and get stuck into some serious cocktail dressing.
Dress, £20, Matalan
Gloves, £12, M&S
Heels, £44, Fearne Cotton at Very.co.uk
Bag, £145, Pied A Terre at House Of Fraser
Lipstick, £7.99, Revlon Super Lustrous Lipstick In Pink In The Afternoon
All aboard
The air hostess with the mostest... get the look with a crisp blue dress.
Jacket, £50, AWear
Skirt, £25,Topshop
Gloves, £12.99,A-Shu.co.uk
Bag, £39.99, Pan Am at Amazon.co.uk
Mira Kozlowska