Wednesday 25 May 2011
Kate Middleton is Style Queen at Michelle Obama meeting in Reiss nude dress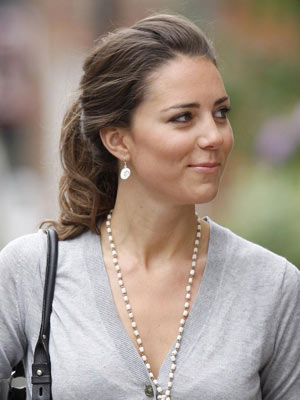 Kate Middleton married Prince William on 29 April
Kate Middleton secured her place as Style Queen when she met the Obamas at Buckingham Palace yesterday.
Prince William's bride championed the British high street for the occasion, showing off her ultra slim figure in a sophisticated Reiss bandage dress which retails for £175.
Kate, 29, paired her nude Shola frock - which has since sold out and crashed the fashion house's website - with a pair of black LK Bennett court shoes and accessorised with nothing more than a simple black clutch.
The Duchess of Cambridge truly trounced Michelle Obama in the style stakes.
America's 5ft 11in First Lady wore a fussy Barbara Tfank £1,400 prom-style dress under a baby pink bolero.
SEE PICTURES Kate Middleton and Prince William meet the Obamas>>
NEW PICTURES Royal Wedding crowd celebrate Kate Middleton and Prince William's big day>>
ROYAL WEDDING GALLERY See the guests arrive for Prince William and Kate Middleton's special day>>
NEW PICTURES Kate Middleton wears elegant lace Sarah Burton dress for her wedding to Prince William>>
NEW PICTURES Kate Middleton and Prince William are married at last>>


NEW PICTURES Kate Middleton and family arrive at London hotel ahead of Royal Wedding to Prince William>>
NEW PICTURES Prince William and Kate Middleton visit Lancashire before the Royal Wedding>>
MORE PICTURES Amazing facts about Kate Middleton - Prince William's wedding belle>>
NEW PICTURES Prince William revealed! Amazing facts about Kate Middleton's man>>
SEE PICTURES Kate Middleton and Prince William: Their love story in photos>>
PHOTO GALLERY Kate Middleton watches Prince William play polo>>
PICTURE SPECIAL Kate Middleton and Prince William appear together at first public engagement>>
NEW PICTURES Kate Middleton and Prince William attend wedding>>
PHOTO GALLERY Kate Middleton gets into Christmas spirit at charity do>>
Esme Riley