Wednesday 02 February 2011
Big Fat Gypsy Wedding dresses - hit or miss?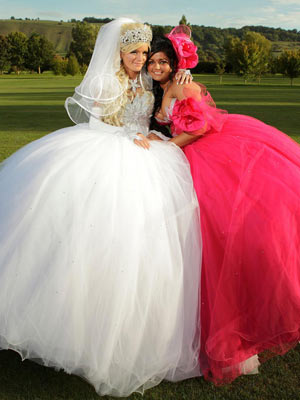 Big Fat Gypsy Weddings airs on Channel 4 on Tuesdays at 9pm
The world might be gripped by the royal wedding plans but here in Blighty we can't stop talking about gypsy ceremonies.
Yes, the Channel 4 hit show My Big Fat Gypsy Weddings has put weddings in the spotlight.
Let's face it, perhaps secretly we all want to be a princess for the day and wear one of those dresses!
And if anyone out there does, the designer you need is Thelma Madine, the Elizabeth Emanuel of gypsy wedding dresses.
Her shop Nico in Liverpool hasn't been busier since being on the show.
'We're never surprised by what the brides request any more,' Thelma tells Channel 4.
'Last year Katy Perry was photographed wearing a gown covered in lights, and I then had two brides request light-up dresses.'
Just like royal designers, Thelma won't discuss her clients and how much they spend but there are rumours that her dresses can cost up to £50,000... that's a lot of scrap metal!
Charmian Harris