Tuesday 06 April 2010
Sarah Jessica Parker is a Sexy Mum In The City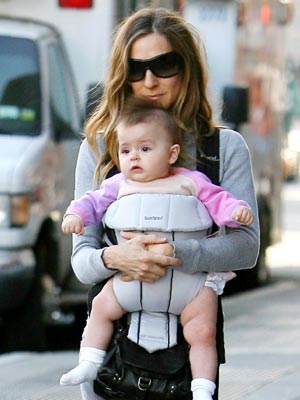 Sarah Jessica Parker enjoys a stroll with one of her twin daughters
Where Sarah Jessica Parker leads, we follow. And strolling around New York she's as cool as ever, carrying one of her twin daughters in a stylish BabyBjorn baby carrier.
In classic grey cords and simple T-shirt, Sarah Jessica completes her look, not with her usual Manolo Blahniks, but with this season's must-have clogs.
It's not a look that we'd expect to see her Sex And The City character Carrie Bradshaw wearing, but SJP proves that being a mum to 10-month-old daughters Marion and Tabitha doesn't have to ruin your style.
SJP's so often seen in the latest designs, sexy cocktail dresses and killer heels, it's actually refreshing to see her looking relaxed and casual in her other role as mum.
And who knows, if the baby rumours surrounding the release of the new Sex And The City 2 movie out in May are true, maybe Carrie will follow SJP's lead and bag herself a classy baby carrier for her mini Big!
The Sex And The City 2 movie is out on 28 May.
Get Sarah Jessica Parker's chic mama look online now...
More BABYBJÖRN...