Friday 05 March 2010
Rihanna rocks to-die-for denim and stylish studding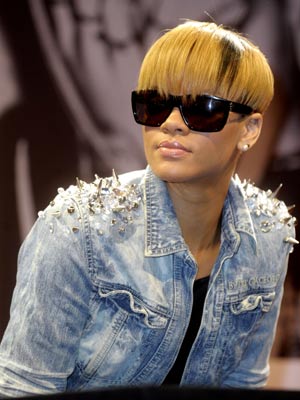 Rihanna's right on trend in Berlin
Rihanna knows the only thing that's cooler than wearing one of the latest trends, is wearing two of the latest trends.
The SOS singer - who was in Germany to promote her album Rated R - was certainly in no danger of having a style emergency in Berlin in her spikey studded acid-wash denim jacket.
Rihanna completed the look with super-sized sunglasses and a brand new bowl cut.
If you don't want to look like an extra from Mad Max, shop online for our Rihanna-inspired, low key denim studded selection...
Alison Tay
SEE PICTURES Rihanna and Chris Brown - their love story>>
PHOTO GALLERY Rihanna's rise to fame in pictures>>