Tuesday 08 December 2009
Christian Louboutin designs for Barbie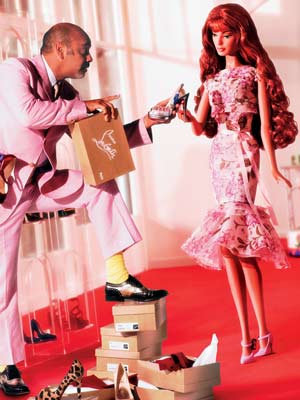 Christian Louboutin wants Barbie to look her best on her 50th birthday
What does every girl want for her birthday? Christian Louboutin heels, of course...
And, for her 50th year, that's exactly what Barbie is getting...
To celebrate her half century next year, Mattel have enlisted the French designer to create a line of limited edition Barbie dolls - complete with their own signature red-soled heels.
'Barbie is such an icon; how could I resist such a collaboration?' says Christian Louboutin.
Indeed. How could any girl resist - living or plastic...
Mr L's shoes are loved by the likes of Sex And The City actress Sarah Jessica Parker, X Factor judge Cheryl Cole and Gossip Girl Blake Lively.
The first of 3 Barbie dolls is on sale now exclusively at Net-a-Porter.
Cat On A Hot Tin Roof Cat Burglar Barbie, £100, clad in a sexy hooded catsuit, comes with 3 Barbie-sized pairs of shoes - plus a pair of tiny leopard-print boots - in their very own Louboutin boxes.
Watch out for the other 2 special editions to complete the set early next year.
TOP SECRET: Alongside Louboutin, Mattel has rounded up 50 yet-to-be-named designers to design outfits for her 50th year...what a lucky doll!
Also, in honour of Barbie, Louboutin has re-worked his classic peep-toes in a hot fuchsia pink AKA Barbie Pantone 219 Pink for us real-life living dolls.
Bonita Turner
For more Barbie-inspired items shop now...