Monday 02 September 2013
Lucy Mecklenburgh: Online bullies said I had a flat, saggy bum so I got off my arse
Previous
Next
Lucy Mecklenburgh and Chloe Madeley have both been bullied online

TOWIE girl Lucy Mecklenburgh used to live off pasta before she got fit

Lucy Mecklenburgh wouldn't rule out plastic surgery one day

Lucy Mecklenburgh has a fantastic figure
Lucy Mecklenburgh
recently beat
Rihanna
and
Beyoncé
to top a Best Bikini Body poll.
But, just like pal Chloe Madeley, she's been bullied about her figure.
'I went to Mexico in January and got papped by the pool,' explains Lucy, 22.
'I wasn't happy with what I saw - I had cellulite on my bum and legs.
'Plus, online comments were nasty: "Look at her cellulite" and "She's got a flat, saggy bum."
'At the time, I ate what I wanted and lived off pasta.
'I felt disgusting, so I was like: "Sod it! I need to get off my arse."
'I got a personal trainer and I'm still working out now. I absolutely love it.'
If Lucy could change one thing about her body, she'd choose longer legs.
'Also, my boobs aren't as big as they were now I'm off the Pill,' she confides.
'I'd never say never to plastic surgery.
'Maybe when I'm older, but I think it's too young when you're in your twenties.'
The EatWell With Lucy diet plan and workouts are available from resultswithlucy.com
Read the full interview with Lucy Mecklenburgh and Chloe Madeley and see our amazing pictures of the girls in this week's Now magazine dated 2 September 2013 - download the digital edition now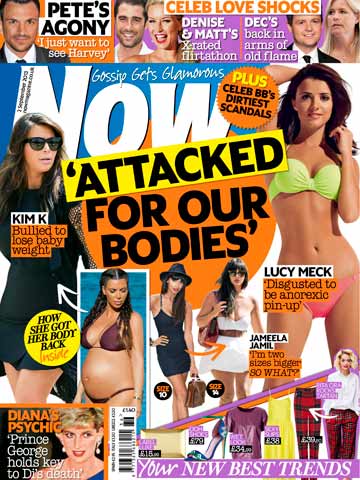 NEW PICTURES TOWIE cast ditch Essex to film TV show in Marbella - photos
SEE PICTURES Lucy Mecklenburgh and TOWIE cast join fellow TV stars at TV Choice Awards 2012 in London