Thursday 08 November 2012
Olympic cyclist Bradley Wiggins hospitalised after being thrown off his bike during training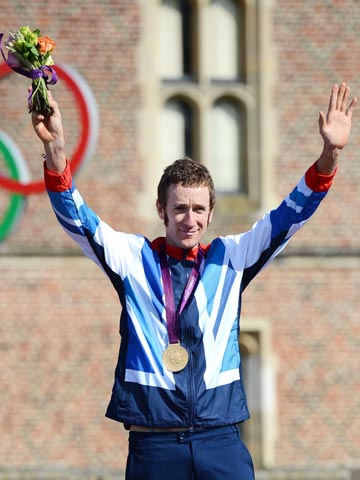 Bradley Wiggins has won 4 Olympic gold medals throughout his career
Olympic cyclist Bradley Wiggins was knocked off his bike in a terrifying accident while out training last night.
The 4-time gold medallist had been riding with his support team near his home in Lancashire when he was hit by a van pulling out of a petrol station.
'I saw a cyclist sitting on the pavement. I asked him if he was okay and he said he had broken his ribs and hurt his hands,' garage attendant Yasmin Smith tells The Sun.
'At that point I didn't know it was Bradley Wiggins. The driver looked very upset and shaken up.'
Bradley, 32, was hailed a hero earlier this year when he won the Tour de France weeks before London 2012 began.
He was kept in hospital overnight for observation.
'We can confirm that Bradley Wiggins was involved in a road traffic accident whilst riding his bike near his home in Lancashire on Wednesday evening,' Team Sky write in a statement on their website.
'He is expected to make a full and speedy recovery.'
SEE PICTURES Team GB Olympic stars attend Men In Black 3 premiere
SEE PICTURES London 2012 Olympic Opening Ceremony
SEE PICTURES Kate Middleton joins Prince Harry and Prince William in Stratford for Olympics
Anna Duff