Thursday 25 October 2012
Prince Harry shares 'future wife' Pippa Middleton's party tips with pals in Afghanistan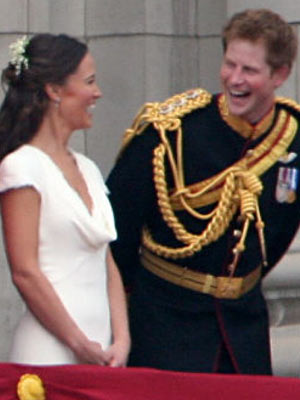 Prince Harry is good friends with Pippa Middleton
Prince Harry has been entertaining his comrades in Afghanistan by reading them extracts of Pippa Middleton's new party planning guide Celebrate.
Pippa, 29, sent Harry a copy of the book - which she's believed to have been paid £400,000 to compile - ahead of its release today.
'He couldn't resist reading chapters out loud,' says a source.
'It's raised morale and caused some much-needed cheer.'
Pippa and helicopter pilot Harry, 28, became friends after their siblings Kate Middleton and Prince William started dating at university.
Harry's army friends often joke about the pair getting together in the future and the £25 book arriving in the post gave them ample opportunity to tease the royal.
'Harry's the subject of lots of banter. Everyone winds him up about Pippa,' the insider tells The Sun.
'They take the mickey out of their friendship by calling her "wifey in the making". Harry loves a good joke, even if it's about him.'
SEE PICTURES Prince Harry makes first public appearance after naked pictures scandal
SEE PICTURES Kate Middleton and Prince Harry enjoy London 2012 Closing Ceremony without Prince William
SEE PICTURES Kate Middleton cuddles Prince William with Prince Harry as Chris Hoy wins 5th Olympic gold
Anna Duff