Monday 22 October 2012
Pippa Middleton: It's startling to be famous because of Prince William and my bum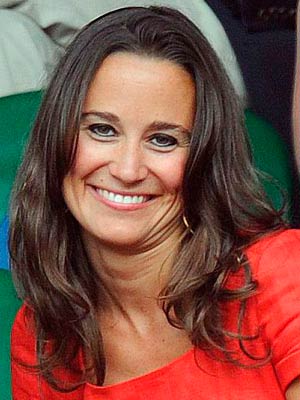 Pippa Middleton insists that she's just a normal girl
Pippa Middleton is still shell-shocked about becoming a worldwide celebrity - all because of her bum.

Pippa, 29, admits that she was 'startled' by the amount of attention she received at sister Kate Middleton's wedding to Prince William, and is still trying coming to terms with her fame.

'It's startling to be recognised all over the globe because of your brother-in-law and your bottom,' writes Pippa in new book Celebrate: A Year Of British Festivities For Families And Friends.
'One day I might be able to make sense of this.

'In the meantime I think it's fair to say that it has its upside and its downside.'

One upside is securing a £400,000 publication deal to share her party tips.

'I certainly have opportunities many can only dream of - but in most ways I'm a typical girl in her 20s trying to forge a career and represent herself in what can sometimes seem rather strange circumstances,' says Pippa.

'I am by nature an optimist so I tend to concentrate on the advantages.

'One of the most attractive has been the chance to publish [this book] Celebrate.

'I know many of you will pick up the book out of nothing more than curiosity.

'[But] I can assure you that it feels even stranger to me than it probably does to you to have seen so much written about me when I have done so little to paint a picture of myself.

'This is my first chance to do that and I've enjoyed every minute of it.'
SEE PICTURES Pippa Middleton attends Shadow Dancer premiere
SEE PICTURES
Kate Middleton
,
Prince William
and
Prince Harry
watch cousin
Zara
at the
Olympics
>>
SEE PICTURES Pippa Middleton takes part in Highland Cross duathlon challenge
Lucy Lynch