Thursday 18 October 2012
Brad Pitt and Angelina Jolie ship British cottage pie and apple crumble to France for their kids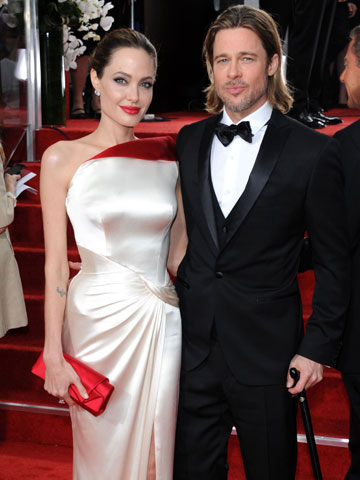 Brad Pitt and Angelina Jolie were living in Surrey earlier this year
Brad Pitt and Angelina Jolie have had £5,000 worth of British food shipped to their home in France because their children are refusing to eat the local cuisine.
The couple's brood got used to our traditional grub when Brad and Ange temporarily moved to Surrey to shoot new films earlier this year.
'The kids have gone off French food after living in the UK for so long,' says a source.
'Brad had a look online and found an English food company who deliver ready meals such as cottage pie, toad in the hole and apple crumble.'
Brad, 48, and Ange, 37, also selected bulk orders of baked beans and crisps from an internet grocer.
But the pair won't have impressed good friend Jamie Oliver with some of the unhealthy meals they've stocked up on.
'The kids love Turkey Twizzlers and baked beans on toast so Brad put in a massive order,' the insider tells The Sun.
'He filled two freezers.'
SEE PICTURES Brad Pitt and Angelina Jolie - a love story in photos
SEE PICTURES Angelina Jolie - from sultry teenage to sexy Hollywood star
SEE PICTURES Angelina Jolie and Brad Pitt nuzzle up at Cannes
Anna Duff