Tuesday 25 September 2012
Josie Gibson: My and Luke Sanwo's garage doubles as a sex parlour!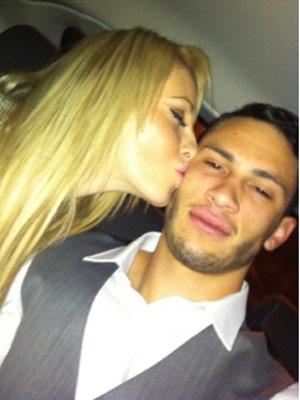 Josie Gibson and Luke Sanwo have been having lots of sex
Josie Gibson has revealed that she and fiancé Luke Sanwo are using their garage as a sex room.
Now's columnist is currently renovating her home and she's found that her parking area is secluded enough for a quick fumble.
'We're turning it into a gym - but until it's done, it's doubling as a sex parlour,' Josie, 27, tells Now.
'With my mate and her two kids staying with us, we haven't had many chances for a bit of "how's your father".
'Luke will say: "Jose, we need to sort that stuff out in the garage," and I'll know it's time for a bit of hanky-panky.'
Clearly Josie is enjoying her time in the 'sex parlour', saying: 'I haven't been this happy for ages.'
Read Josie Gibson's full columnin Now magazine dated 1 October 2012 - out now!
Josie Gibson: I've broken my nose and lost my engagement ring
Josie Gibson: I catch loads of women perving over Luke - he looks ripped
Josie Gibson: Luke hasn't got much banter but guys with all the chat are the ones who cheat
Josie Gibson: I now realise how lucky I am to have an honest bloke