Tuesday 25 September 2012
Watch out, Louis Tomlinson! One Direction girlfriend Eleanor Calder enjoys a Don't Tell The Bride TV marathon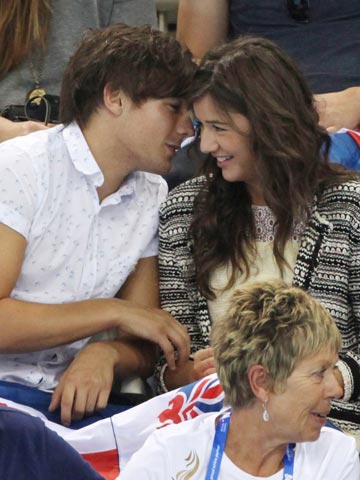 Could marriage be on the cards for Louis Tomlinson and Eleanor Calder?
Louis Tomlinson's girlfriend Eleanor Calder is catching up on her favourite TV shows while the weather's not too great.
The student is currently at university in Manchester, where it's been pouring down with rain all week.
'The weather is so miserable I have been sat inside all day watching Don't Tell the Bride..tragic,' Tweets Eleanor, 20.
The BBC3 show features brave brides who let their men plan their entire wedding.
Perhaps Eleanor is getting inspired and hoping for a wedding to her long-term One Direction boyfriend - but surely she wouldn't let 20-year-old Louis plan the whole thing?
SEE PICTURES Get the look! One Direction star Louis Tomlinson's girlfriend Eleanor Calder and Liam Payne's other half Danielle Peazer are new style icons
SEE PICTURES Louis Tomlinson and One Direction sign copies of album Up All Night in New York
SEE PICTURES Louis Tomlinson with One Direction and red carpet guests at the Brits 2012
Rachel McGrath
VIDEO: One Direction's Harry Styles supports Cancer Research UK

VIDEO: One Direction coming soon
VIDEO: Teen Now meets One Direction part 1
VIDEO: Teen Now meets
One Direction
part 2
VIDEO: One Direction at Capital FM Jingle Bell Ball part 2